ENDED... NOVEMBER 1, 2021
We're calling on middle and high school students from across the country to write and submit short 10-minute plays confronting gun violence.
To all the young writers out there - or those with a voice who don't know that they are writers, yet -we need you in this moment.
We need you to channel your fear and frustration, your anxiety and anger, and, yes, your hope, into stories.
Stories that tackle the issue of gun violence.
Stories that show us that this is not normal.
Stories that show us how to be better.
​
We need your voice now more than ever.
​
With it, together we will say ENOUGH!
​
Write the change you want to see in the world.
MIDDLE + HS STUDENTS WRITE & SUBMIT
SHORT PLAYS ON GUN VIOLENCE
THE DEADLINE FOR SUBMISSIONS IS
OPEN TO ALL TEENS
IN GRADES
DURING THE 21/22 SCHOOL YEAR
THANK YOU THIS YEAR'S WRITERS!
SELECT PLAYWRIGHTS ARE...
Select playwrights receive a $500 stipend for their play, sponsored by Change the Ref.
The plays chosen by the Selection Committee will be staged in dozens of communities across the country in the #ENOUGH Nationwide Reading.
Play will be published by Playscripts in a collected anthology that will be licensed for future productions.
Playwrights also receive free memberships and craft training from The Dramatists Guild and feedback from nationally-renowned playwrights.
​Explore previous #ENOUGH winning plays and the teen playwrights who wrote them. Now available for licensing through Playscripts.
September 1 - November 1 2021​
​
We're calling on writers in grades 6-12 to write short plays confronting the issue of gun violence.
April 20, 2022​
​
Join #ENOUGH's evening of readings staged simultaneously across the country.
THIS YEAR'S SELECTION PANEL
A gun violence survivor, a Pulitzer Prize finalist, one of the country's most produced Native-playwrights, the most produced playwright in American schools and two of the country's most acclaimed playwrights join forces to select this year's plays.
Have a question we don't address below? Please email us and we'll be happy to help!
CALL FOR SUBMISSIONS
GUIDELINES: What are the guidelines for submission?
---
The basic guidelines for submission are: Plays must address the issue of gun violence. Completed scripts must be no longer than 10 minutes when read aloud. [A good rule of thumb: 1 page of dialogue between 2+ characters = 1 minute of stage time] Scripts may have a cast size up to, but no more than, six (6) actors. Plays must be the original work of a single writer. Collaborative works or adaptations won't be considered, nor will plays that include music, lyrics, or dialogue written by anyone other than the submitting writer.

Writer must be in 6-12 grade at the time of submission. Full rules for submission can be found here.
---
DEADLINE + SUBMITTING: When are submissions due? How so I submit my play?
---
Play submissions are due by 11:59 PM PST on NOVEMBER 1, 2021. Plays will be accepted online via the submission portal: enoughplays.com/submit
---
SELECTION: How many plays will be selected?
---
6-8 plays will be selected.
---
CONTENT: Are there any rules about content?
---
Writers are free to write what they choose - HOWEVER - we issue all writers this challenge: What if… you wrote a play about gun violence without showing a gun and without showing any violence? What kind of play could YOU write? Take last year's Ghost Gun by Olivia Ridley for example. Olivia's play is about gun violence through the lens of race that examines the double standard of how the deaths of Black men due to gun violence are talked about (or not talked about) in comparison to their white counterparts. In it, the main character of Black Boy holds our attention by claiming he has a gun. Carrying a gun has been the only way a young Black man like himself can ever feel any power or earn anything close to respect. His monologue is a searing indictment of our society's indifference to Black and brown bodies dropping dead in the street. At the end of the monologue, Black Boy reveals that his "gun" was fake all along. Use Olivia's play as inspiration and go past the violence and even the gun itself. A story about gun violence is a story about the people it impacts. That impact has lasting effects on a community long after a gun was ever fired. Embracing this challenge will encourage you to write more thought-provoking and nuanced plays, and avoid staging anything that may be insensitive or re-traumatizing for the survivor community. Write the story you want to tell. Just know that exploring the impact of gun violence does not mean you need to depict it.
---
RESOURCES: What resources do you provide?
---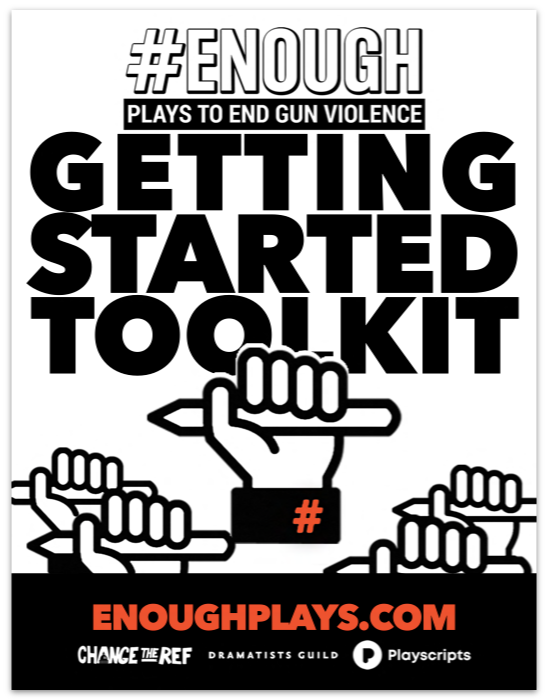 Writers are encouraged to check out our Getting Started Toolkit that includes writing prompts, road maps for the writing processes, lesson plans and sources of facts on gun violence in the US. Other items will live on our RESOURCES page. We also encourage you to sign-up for our newsletter to receive program updates.
---
TIME LIMIT: Does the play have to be 10-minutes long?
---
Your play can be anywhere UP TO 10 minutes long, but not longer. [A good rule of thumb: 1 page of dialogue between 2+ characters = 1 minute of stage time]
---
MONOLOGUES: Can I write a monologue?
---
Monologues are allowed! In fact, one of the plays selected in 2020, Ghost Gun, is a monologue. Just like a compelling scene, compelling monologues deal with conflcit, a character wanting something, and have a beginning, middle and end. Here's a great, simple resource from MasterClass on writting monologues.
---
---